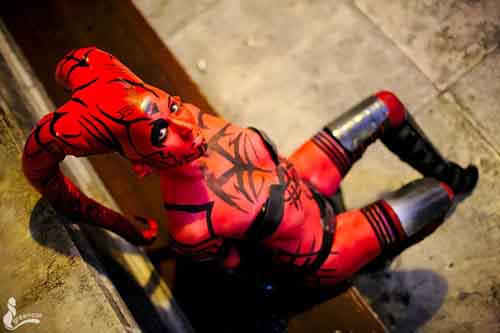 Sexy Sith - Darth Talon
Darth Talon was a female red-skinned Twi`lek covered head to toe with black Sith tattoos earned in combat. She was trained by fellow Twi`lek Sith Lord Darth Ruyn who she decapitated before ascending to be the Hand of Darth Krayt alongside Darth Nihl. Darth Talon stayed loyal to Krayt until his death at the battle of Coruscant when she went into hiding and followed her own path. The red and black look makes for great cosplay as you can see in this stunning picture.

Considered dressing as Darth Talon your self, have a look at there great costumes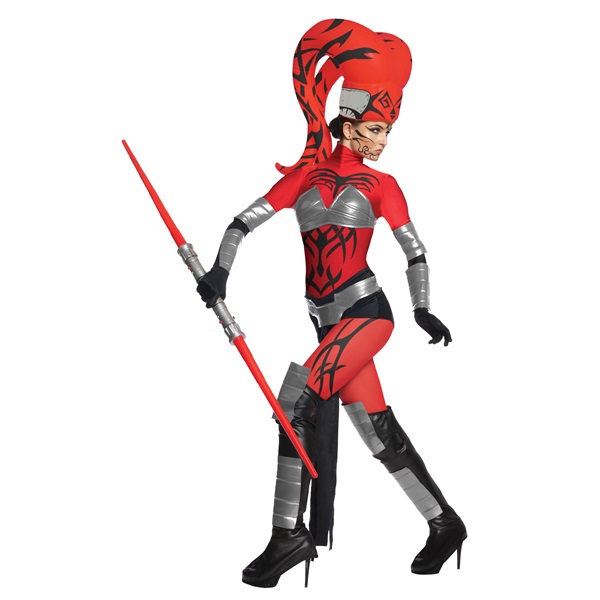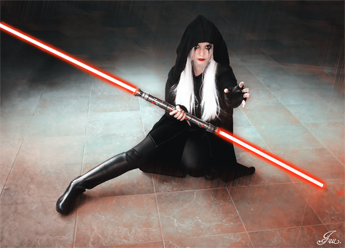 Darth Zannah - Good Girl Gone Bad
Darth Zannah is a human female who was originally recruited by the Jedi but events pushed her to the dark side of The Force as the apprentice of Darth Bane. As is often the way with the Sith, Zannah trained with Bane until she equalled him in strength and attempted to overthrow her powerful master, she eventually defeated Bane using her sorcery abilities and took on his new apprentice as her own. Her dual sabers and cloaked look make for a great cosplay costume.

If you haven?t read the rule of two books, would highly recommend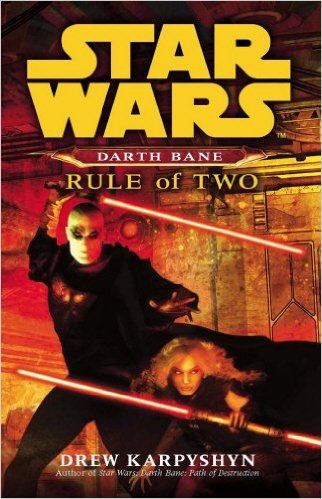 Asajj Ventriss - Clone Wars Cutie
Ventress is a female from the same planet as Darth Maul Dathomir. She never became full Sith lord but she acted as the deadly agent and assassin for Count Dooku during the prequel trilogy, even though Asajj Ventress only appeared on screen in The Clone Wars cartoon and unfortunately never made it to the big screen she became the nemesis of Obi Wan and Anakin. Just because she never made it the movies hasn't stopped cosplayer replicating her look at conventions around the word and knowing the Star Wars universe we wouldn't bet against her appearing in one of the spin off movies.
Zam Wessell - Looks To Kill

Zam Wessell played by Leanna Walsman
You may not remember the name but you will certainly recognise the picture as the shape shifting bounty hunter who attempted to assassinate Senator Padme Amidala in Episode II. In the movie she is played by smoking hot Aussie Leanna Walsman but the costume does her little justice in truth.

Buy a Zam Wessell action figure?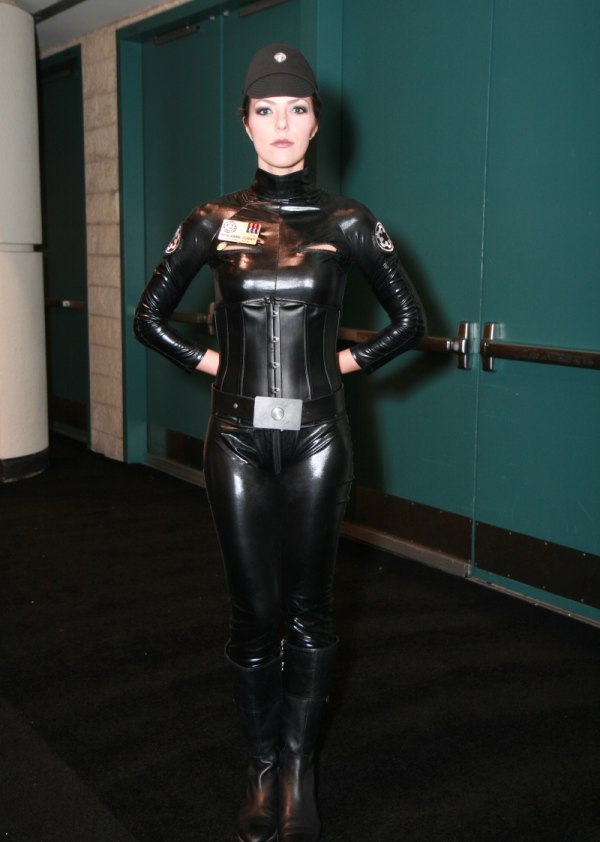 Imperial Officer - Stand to Attention
I don't remember seeing many female officers serving in the Imperial navy but I think you would agree we would like to see more. This has not stopped coslayers from all over the World both male and female making the uniform their own like this one in the picture.
Imperial officer uniform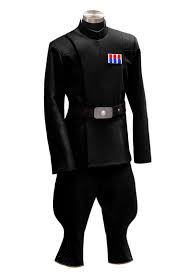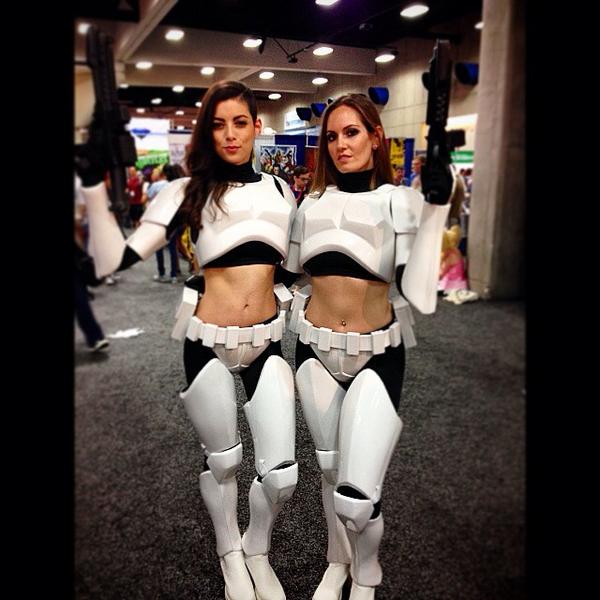 Femtroopers - The Empire Needs You
Storm Toppers are some of the coolest fictional soldiers of all time, even though it may seem that their blaster`s aim is off and their armor is next to useless they look uber cool, and when you put the uniform on a beautiful women then there is not many better cosplay costumes.

Storm Trooper Costumes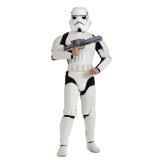 Desirable Darth Vader
Darth Vader is one of the most iconic characters in the Star Wars universe and although he is one of the main bad guys his popularity shows no sign of waning. The pure awe of his costume makes it a popular choice for cosplayers and fancy dress fans alike. But what is Darth Vader was female, that would be even scarier, here we see a female cosplayer dressing as the dark lord of the sith.

Darth Vader Costumes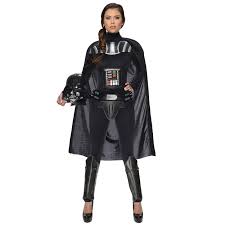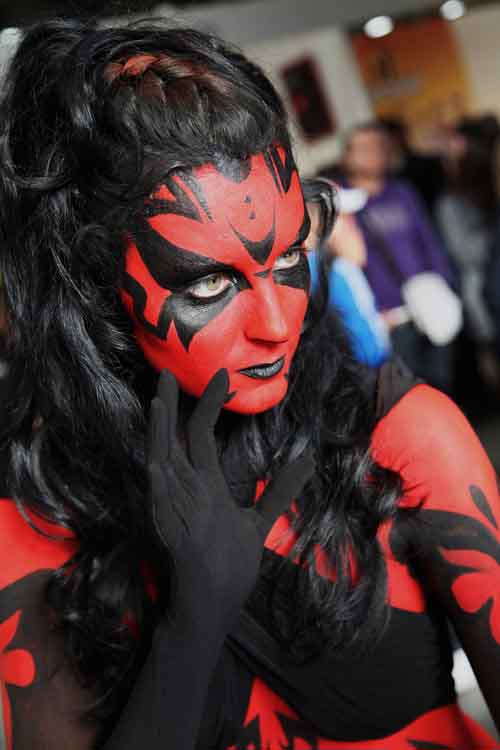 Darth Maul - Peace is a Lie, there is only Passion
Darth Maul is one of the toughest Sith lords of all the Star Wars movies, he appeared in Episode one The Phantom Menace and quickly became a fan favourite. His red and black horned look Is big favourite in the cosplay community for those who are willing to go the extra mile to get the perfect look. Pictured is a female version of a Zabrak sith lord.

Darth Maul Costume UK